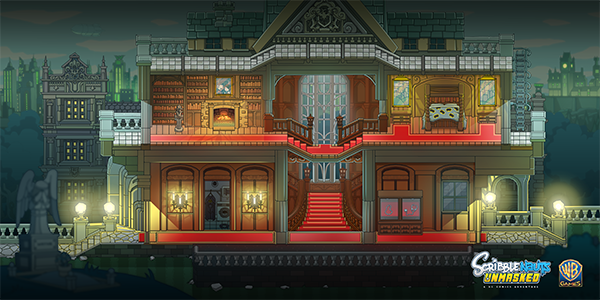 area: WAYNE MANOR
Designing Wayne Manor was a nice change from areas like the Batcave and Gotham City. It needed to be small as it wasn't a main locale so we had to fit a mansion into an area the size of an apartment.

Simple design was the answer.

Two floors, four rooms with the ornate stairwell. The background made it appear larger and deeper than it really was and the comedic additions by the artists such as the Batman bedsheets were a nice touch.

Wayne Manor Highlights:
The Well
Bat Laundry
Hidden Elevator to Batcave
locale: WELL
The Well is the location most famous for leading Bruce Wayne to the Batcave in many of the modern film locations - exiting out of the back of the Manor will fade away the foreground revealing this iconic locale.

locale: BAT LAUNDRY
Adding a little Scribblenauts touch to the mix, we added a laundry room containing the caped crusaders outfit.

locale: SECRET ELEVATOR
There is always a secret way into the Batcave - and in our Wayne Manor, we ensured there was one as well..


info: DESIGN PROCESS
First thing to do was research and mission design. A proposal for puzzles and mission progression was created in Word. Since we were using a DC license and not all characters would be known by others on the team - I would often provide information on lesser known characters.

The design below was my original Wayne Manor mission design:

Once the mission design was approved, I would then move onto the level design proposal. These were usually done in Illustrator.

The design below was the Wayne Manor level design:

the OTHER LEVELS

the MISSION DESIGNS